We recently toured Andersen Windows' manufacturing facility in Bayport, Minnesota. We are an Andersen-only window replacement contractor, so it's always good to see the home base and get a feel for the product we work with every day. We have also been using Andersen's 100 Series windows for several years, but never saw the actual fabrication of the product. We were able to see our flagship 400 Series product made-to-order and the Andersen 400 series patio doors come to life.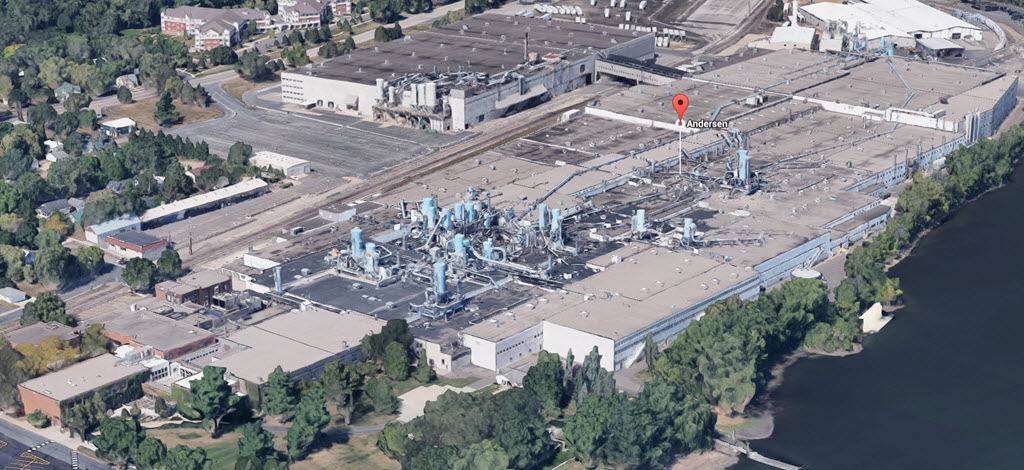 The overall feel of the plant is a blend of cleanliness and thoroughness. The window industry has shifted to custom size windows for replacement almost as a standard, which has increased the complexity of each order and forced companies like Andersen to create substantial intelligence into the manufacturing process. The plant floor was busy, yet controlled. The ingredients were laid out, but things were in their place.
One of the highlights of the tour was seeing how the vinyl clad exterior is applied to their 400 series windows to create a continuous barrier with no seams. The technology was developed in the 1960's, but it has been successful that the technology has spread to many different parts and pieces of Andersen's windows. Of course, by creating a seamless exterior over wood, Andersen's Permashield product allows you to have wood windows on the interior without fear of leaking or rot.
Andersen's facility speaks volumes about the "You get what you pay for" logic. One of the biggest benefits to working with a large corporation is the access and commitment to research and development. We were able to see the technology behind the 100 series window, introduced in 2010, come to life. It is constructed of a composite material called Fibrex that is made of 60% vinyl and 40% wood. It's very similar to some composite decking material on the market like Trex or Azek. The wood in these products is recaptured saw dust from the manufacturing of other window products. Using the wood in their Fibrex composite material allows Andersen to utilize more than 98.5% of materials brought into the factory by re-purposing waste and limiting landfill contributions.
It was inspiring to see the people behind the products we install. One statistic pointed out on the tour was that by the time a window gets installed, it has passed by more than 1,000 hands.
Our commitment to Andersen runs deep and we're proud to bring their product to market as a Certified Andersen Installer in the Twin Cities metro area.
If you're interested in enhancing your home with new windows in St. Paul or Minneapolis, look no further than Great Plains Windows and Doors. Our resident experts are here to help. Find out more at www.GreatPlainsWindows.com or call us today at 651-207-4571.