FIRST TIME IN J.D. POWER HISTORY ONE COMPANY HOLDS THE TOP THREE SPOTS IN THE
HOME IMPROVEMENT CATEGORY
BAYPORT, Minn., July 20, 2017 — Andersen Corporation makes history with a sweep of the top three
spots for "Outstanding Customer Satisfaction with Windows and Patio Doors," according to the J.D.
Power 2017 Windows and Patio Doors Satisfaction Study.
"Delivering a first-class customer experience and building brands people value and trust underlies this
historic recognition," said Jay Lund, Andersen Chairman and CEO. "I am very proud of the
commitment and dedication Andersen employees have to delighting customers at every touchpoint."
The JD. Power Windows and Patio Doors Satisfaction Study, now in its 111 year, measures satisfaction
among customers based on performance in five factors: appearance and design features; operational
performance and durability; ordering and delivery; price paid for products and services received; and
warranty.
Andersen, American Craftsman, and Renewal by Andersen received the top three highest numerical
scores, respectively, among 10 companies in the J.D. Power 2017 Windows and Patio Doors
Satisfaction Study, based on 1,904 total responses, measuring the experiences and perceptions of
customers who purchased windows and/or patio doors in the previous 12 months, surveyed in February/
March 2017. Visit www.jdpower.com.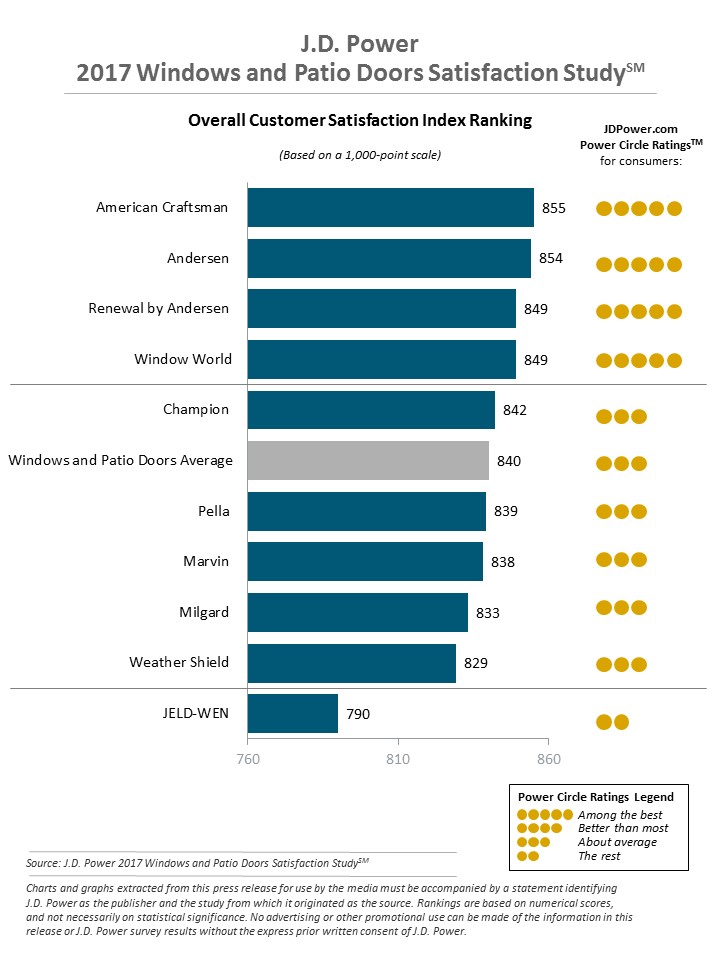 J.D. Power is a global leader in consumer insights, advisory services and data and analytics. These
capabilities enable J.D. Power to help its clients drive customer satisfaction, growth and profitability.
About Andersen Corporation
Headquartered in Bayport Minnesota, Andersen Corporation and its subsidiaries manufacture and
market window and door products under the Andersen , Renewal by Andersen , Silver Line
American Craftsman, EMCO, and Weiland brands. Andersen was founded in 1903 and employs
nearly 11,000 people in locations across North America.
About Great Plains Windows and Doors
A long-time partner of Andersen Windows in the Twin Cities, Great Plains Windows and Doors installs core replacement products in the Andersen family of brands including the flagship 400 Series, Architectural A-Series and E-Series, 100 Series and patio doors. As an Andersen-only operation, Great Plains Windows and Doors is committed to offering the most complete and confident contractor experience to homeowners throughout the Twin Cities metro area including Minneapolis and St. Paul.