This text hit my phone last night – "What's the best vinyl window?" I immediately felt like a dentist getting asked how much a tooth extraction from an oral surgeon is. It's in the right field, but we'd rather save the tooth than immediately recommend extraction. So I replied, "Is that a trick question?" Here's the whole exchange.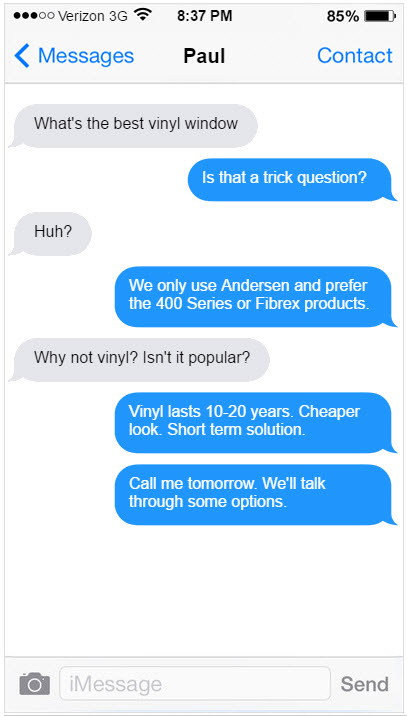 It isn't that there is no need for vinyl. Nearly every window we sell has vinyl as part of its construction. However, it's been proven again and again that the best vinyl windows show their true weaknesses much more quickly than wood clad or all Fibrex products.
I felt like the conversation was really telling me something about the information available to someone looking to buy windows. I wanted to offer a few tips on products and window options that might help someone when considering a replacement window project, especially those looking to replace in the Twin Cities market.
WINDOW CONSTRUCTION
We've talked previously about window substrates including aluminum, vinyl, wood, fiberglass, and composite. While there are many differences in site, situations, and construction, we highly recommend a product that has an extended shelf life. Windows have evolved in the past 50 years, but some innovations are better than others. Andersen introduced the first all vinyl window in 1956 and decided it needed to re-tool the product due to substandard performance. A decade later – with the help of Italian Luigi Zanini – the Perma-Shield product was introduced. Perma-Shield is a process that uses vinyl to encapsulate structural wood to provide long-term protection. It essentially revolutionized the industry spawning other attempts to cover a structural wood.
While Andersen put shelfed the all-vinyl product, others saw a chance for major profits. The vinyl window was introduced in the late 1970's and has become the most common builder-grade window installed on the market. Now, even the best vinyl window can't hold up over time.
Additionally, metal clad windows appeared. Like vinyl, there are many different grades available including roll-form and extruded aluminum. Some major brand manufacturers use a superior extruded product while others use the liability-prone rolled aluminum that can twist open and allow water to penetrate the wood substrate eventually leading to rot.
BRAND
If you're still not sold on the value of a major brand over a small, private-label manufacturer. Let's look at some of the benefits of an established brand:
Reliable delivery
Warranty support
Innovative and tested design
Long-term performance
Commitment to environmental standards
Installer familiarity
PRICE COMPARISON
Save today, pay tomorrow. I've seen it so many times. A 20 year-old home with rotting metal clad windows or a 10 year-old home with warped and inoperable vinyl windows. It was a cost savings at the time of installation, but the homeowner is now left holding the bag and weighing concerns about what to do. Windows are one of two things you shouldn't cut corners on when building a house. The other being siding. These are home improvement projects you should have to undertake in your lifetime, yet we're constantly replacing 10-20 year-old windows due to failure. Don't cut corners. Don't buy into too good to be true. Do what's right for your home. Add value. Remember, homes that replace with Andersen use it in their real estate listing. It's that important.
ABOUT US
At Great Plains Windows and Doors, We are all Andersen, All the time and we're the only ones doing it this way. Come see what we have to offer.
If you need some help looking at a entry door or patio door and evaluating it or coming up with a replacement door solution in St. Paul or Minneapolis, look no further than Great Plains Windows and Doors. Our residential window replacement experts are here to help. Find out more at www.GreatPlainsWindows.com or call us today at 651-207-4571.