Our website talks a lot about Andersen Windows and the products that have come to define us as the best window replacement company in the Twin Cities. Andersen's website does a good job of explaining product options as well. But we also have a different approach to the complete window replacement process that we think separates us from the crowd in our area.
Over the past 25 years, we've developed a replacement process that keeps our homeowners and their experience at the forefront every step of the way. It isn't all that complicated. We endeavor to treat you and your home with respect from the first visit and when we wrap up your project, our goal is to leave it cleaner that we found it. Of course, we have the advantage of opening up your home to the outside and leaving you with brighter and clearer windows.
So what exactly is our window replacement process?
Initial Meeting
When you've come to the realization that replacement windows would greatly improve the comfort and energy efficiency in your home, simply call or submit a request on our website to schedule an appointment at a convenient time for you. Depending on the size of your project, we ask you to set aside 1-2 hours for the initial appointment. Before we arrive, please consider the size of your project and any questions you might have for us when we visit. We will meet with you in your home to create a window and door replacement plan tailored to your needs and wants. We will provide you Andersen Windows and Provia Door options including style, color, hardware, and performance that best compliments the look and feel of your home.
During our project evaluation, we will guide you through specific product options that best fit not only the architectural character of your home, but also your project budget.
Options
Depending on the size or complexity of your project, many things will factor into a final project scope. Based on an overall evaluation of the project, we will present the options that best fit your needs and propose various solutions. Each home is different and we will take the time to identify any unique installation challenges.
In addition to the on-site discovery session, we also have an interactive showroom with the complete line-up of Andersen Windows. You can touch and tilt the product and envision how it might actually look in your home. You'll also be able to see the differences between various product options for you home including hardware, trim moulding, and exterior finish options.
Measure and Order
Once you choose Great Plains Windows and Doors for your project, our operations team will begin the window replacement process by ordering windows and doors specific for your home. We will set up a time to visit your home to take final measurements and note any installation details related to the site conditions.
After these final details are captured, your materials will be ordered. Once the windows or doors arrive in our facility, you will be contacted by our Project Coordinator. Windows and doors usually take 4-6 weeks to arrive after ordering. From scheduling your installation date to following up to make sure you are completely satisfied, your Project Coordinator will be with you every step through completion.
Installation
Your installation team, led by an Andersen Certified Expert Installer, will replace your windows with little to no disruption to your home. We'll make sure they are up to speed on any quirky details for your project. They will provide expert workmanship and project efficiency so your installation is completed both swiftly and successfully. We pride ourselves on cleaning up so well that you won't even know we were there!

Satisfaction
When you work with Great Plains Windows and Doors, you get the added security of working with an industry leader that has been serving Minnesota homeowners since 1991. If you should ever have a problem simply give us a call and our in-house service department will be there to assist you!
Support
Once we complete the project, we are still here to support you down the road should anything go astray. Our team is the only Andersen Certified Installer in the Twin Cities that is also an Andersen Windows Service Provider. We think we've put together a winning recipe to support our customers' windows for a generation or longer! Check out this map from www.AndersenWindows.com.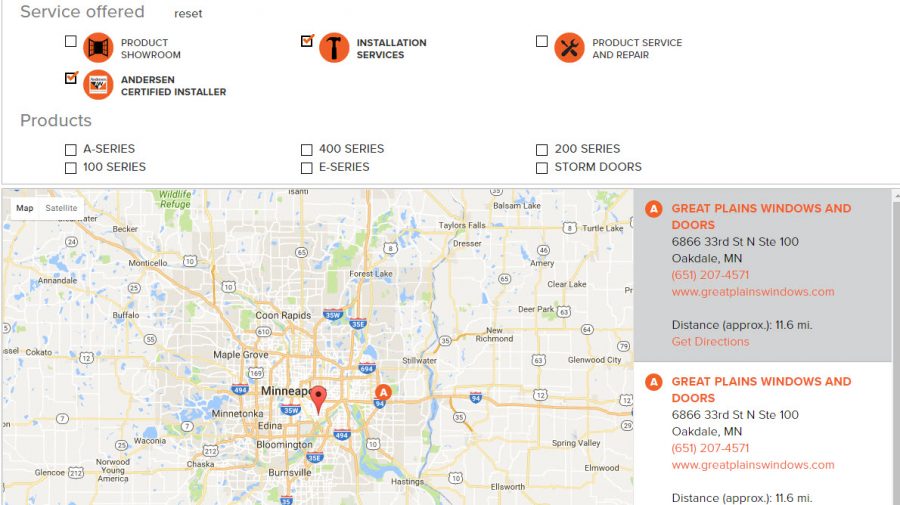 ABOUT US
At Great Plains Windows and Doors, We are all Andersen, All the time. And we're the only ones doing it this way. Come see what we have to offer.
If you need some help navigating the window replacement process or looking into a replacement patio door solution in St. Paul or Minneapolis, look no further than Great Plains Windows and Doors. Our residential window experts are here to help. Find out more at www.GreatPlainsWindows.com or call us today at 651-207-4571.